What is a Jelly Label?
Jelly Labels are three dimensional, domed labels that add an element of uniqueness to a customer's artwork. Images "pop" off the surface and present a "wow factor" to business cards, logos and merchandise.
The polyurethane coating is flexible, durable, UV resistant, self‐healing, scratch and scuff resistant and will not weather or yellow for up to five years. Products with Jelly Labels are suitable for both indoor and exterior use.
Jelly Labels intensify the colours of imprint. Bright or pastel shades – all are captured and reflect the original integrity of the graphics and enhance the overall appearance.
Jelly Labels can be printed in full colour or a single colour on standard substrates of White, Clear, and a White removable/repositionable vinyl. Other substrates are available upon request.
General Production Considerations:
A Jelly Label is a printed and die cut vinyl label that has a 2 part polyurethane liquid poured on the label.
The polyurethane starts to cure upon contact with the air, and requires 24 hours to fully cure. It can be handled without causing any problems after 12 hours.
The polyurethane is held on the label by surface tension until it cures.
All labels must have rounded corners with a minimum outside radius of 1/16" (0.0625")
Inside corners must have a minimum radius of 1/8" (0.125"). Generally, the greater the radius of the round corners the better.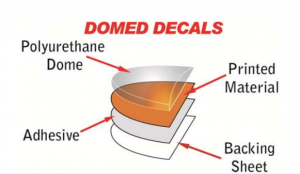 Domed Decals and Labels should be considered when a high quality decorative nameplate or emblem is needed. Some of the applications our customers use Domed Decals and Labels are:
Appliances
Tools
Computers
Automotive Logos
Lawn and Garden or other Outdoor Equipment
Machinery
High End Consumer Goods